Donát Kékesi – Photography
A remarkable group photo captures the essence of a company, instantly showcasing its values and strengths.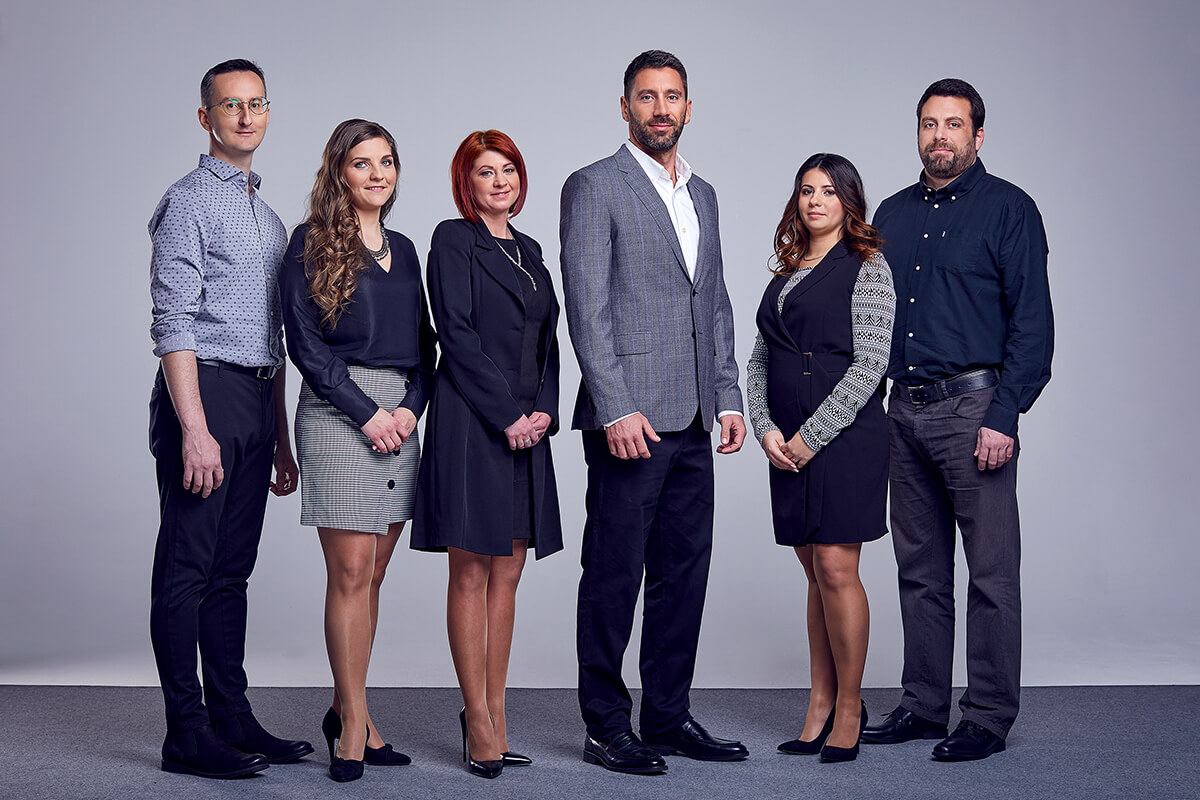 There will come a point in every company's life when just turning up is no longer enough. It also needs to stand out. Whether it is online, in print, on social media or other media, the character of your colleagues sells the brand just as the brand sells itself.
In today's corporate world, a company needs to stand out. Across all media, the character of the people sells the brand just as much as the brand sells itself.
Finding your company's visual voice means knowing who you are and defining your strengths. It is also important to communicate our values, in order to be presented in front of our partners and clients, which we can help you with.
A well-presented group photo is an important tool to build and maintain your brand, just like an impressive logo or an attractive website.
This tool helps you to build your corporate identity with personality, truthfulness and reliability, whether we are talking about a domestic or foreign market, competitive or non-profit, foundation or a scientific company.
See our past
group photos
With a group, the photographer's job is not only to keep everybody's eyes open for the pic. It is just as important to have a well-prepared concept combining the harmony of light and color, and of course – seamless coordination. A stock photo never captures who you really are. The value of a company includes your people, just like the job they do every single day.
How we help you make your
group photo outstanding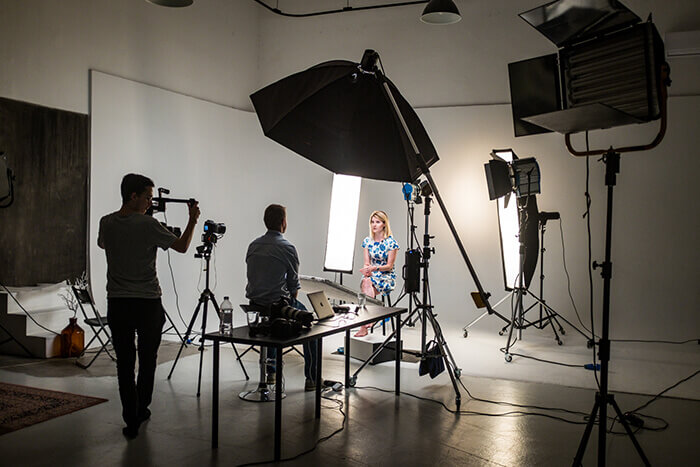 Style
Elegant? Innovative? Classic? Our award-winning team will create a concept using the style and mood that suits you. We arrange the scene to get the best out of the camera and the people in front of it.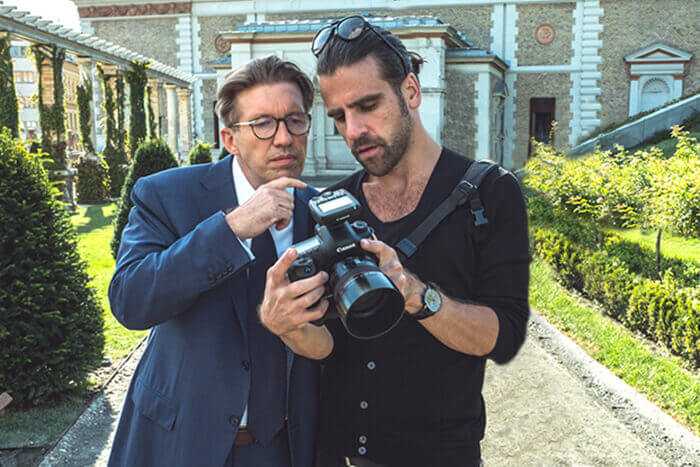 People
Everyone wants to be seen in their best light. We strive to create a friendly atmosphere during the shoot, communicating personally and individually. This is how we bring the best out of everybody.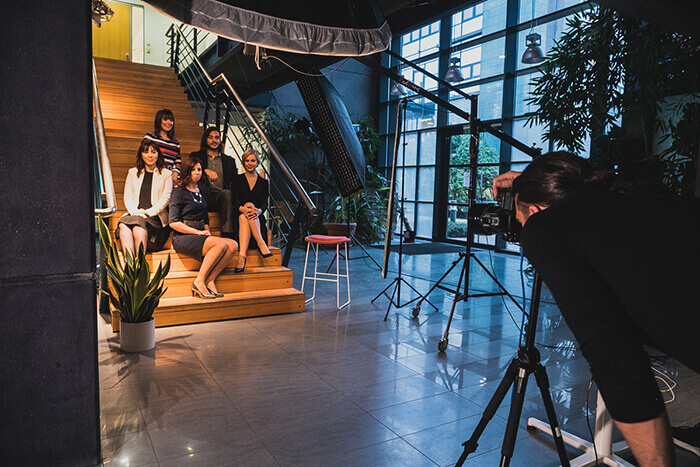 Timing
Your business doesn't stop for our cameras. Thanks to our experience, we have developed a structure which helps us work with the tightest schedules without compromising the artistic vision. Every shoot is precisely thought out and well-prepared, so you spend only the time that's needed.
Group-photos
the details of the service

The Meeting
In our first call, we discuss all the important details regarding your portrait session, including the style, mood and your vision. I am ready to take part in brainstorming, and will show you some of my previous work as an inspiration. No matter if your group consists of 5 or 500, we can accommodate.

Hair, Make-up & Styling
Throughout the portrait session we work with hairdressers and make-up artists who are at your disposal. Professional make-up amplifies the exclusivity and also helps you to get focused for the shoot. Most importantly, you and your colleagues will look fabulous for the camera.

The Group Photo Shoot
Your photo shoot starts with the plan we developed together. We believe in polite, confident and empathetic communication. The advantage of a complete photography crew is that everybody gets the right attention. On top of that, the photo session is equipped with a control-monitor that instantly displays the images so we can make everything perfect – from the lighting, to the angles and the composition.
Professional Studio Equipment
Lighting is as important as the camera. The location scout helps us to find the best lit spots and shooting perspectives. Our high performance flashes make your portrait bright and dynamic. Whether you choose your office interior or studio location, we will find the most advantageous composition.

Post Processing & Color Correction
Just after the photo shoot you will receive the raw photos so you can pick your favourites. As always, we can guide you through the process. All your selected images go through a color correction & retouching phase. At the end, the complete material is uploaded to a password-protected gallery by the agreed deadline.

Behind the scenes - photos & videos
In addition to your magnificent group shots, you will receive an additional gift – a 'behind the scenes' look at the session. They are perfect for corporate communication and social media content as well as a perfect keepsake for your colleagues. Do you have Instagram or Facebook? Great! We will send you the finished materials ready to post.
Nóri & Zoli – on wedding photography
Dr. Balázs Horváth – on image photography
Janka Kopek – on portrait photography
Márius Gomola – on business portrait photography
Regina Keszei – on portrait photography


"Our company will soon enter the international market, so our goal was to do it all with professional photos on our new website. Donát was not only flexible and efficient but he also delivered the retouched pictures extra quickly, which we are very grateful for"

"I have always admired those companies that upload and share amazing photos on their websites. Luckily, we found Donát and his team who could do the same for us. Thank you for the photo shoot, it was a great experience!"

"Donat has professionalism in his blood! He instructed nearly 80 colleagues as if he was a visual conductor. He did it all with patience and a smile along with a professional team."

"We were looking for the right person to do our photo shoot for a long time, to do portraits of our colleagues in a worthy way. We loved the photo shoot! Thank you in particular for taking all the spontaneous photos from ideas that came up onsite. You even took the time to capture our interior-photos. Your work speaks for itself!"

"All the respect to Donát Kékesi, who was leading an entire team professionally. Before the shooting we thought it was going to be a full-day activity. The team didn't have to miss work for long either. The shoot started before clinic opened. This was extraordinarily important to us. He's a great photographer and a generous person."

"We can only talk about Donat in the superlative since the photo shoot at our law firm. He was precise and easy to work with.
On top of that, he took great photos of our colleagues, as if we were the cast of some well-known American TV-series. We loved his perfection, but also that he didn't waste time."